Internasional news
Police in Hong Kong raid family home of Nathan Law
Relatives of the pro-democracy activists were brought in for questioning days after the political exile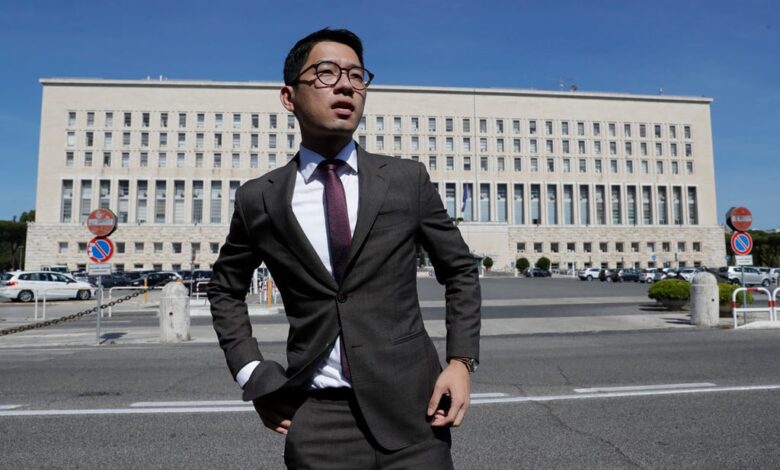 Kabari99-Hong Kong police have raided the family home of Nathan Law, a prominent British exile pro-democracy activist.
Local media reported that Law's parents and one of his brothers were also brought in for questioning.
The raid was a week after authorities issued a HK$1 million (£99,100; US$127,800) bounty for his arrest, as well as for the arrest of seven other activists.
Law, who fled to England in 2020 when he was granted political asylum, has yet to comment on his developments.
Three People Reported
The raid took place on Tuesday morning and police have now confirmed to BBC News Chinese that three people have been arrested
"suspicion helps a person on the run to continue behavior that threatens national security".
Also read: Baru Jadi Pengantin Baru Kabur Pergi ke Pelukan Mantan Pacar
Local media reported that the three men were released after questioning. Police also said more "law enforcement action and arrests" could be made.
Hong Kong authorities on July 3 issued an arrest warrant and award for leading information
until the arrest of Mr Law and seven other Hong Kong political activists living in exile.
The eight activists are accused of colluding with foreign troops – a crime that can carry life imprisonment.
The offense was committed under Hong Kong's draconian security laws three years ago
after widespread pro-democracy protests took place in the former British territory in 2019.
The move was condemned by the governments of Britain, the US and Australia, where most of the activists are based.
Last week, Law said that his life would be even more dangerous as a result of the arrest warrant.
Many observers have noted that Hong Kong authorities are increasingly using tactics similar to those used by the security forces
mainland China's power to intimidate critics overseas. Harassing dissident families is one way.
Also read: Astronaut Muslim Uni Emirat Arab
Alicia Kearns,
A Conservative MP and chair of the Commons foreign affairs committee, said the raid was "absolutely outrageous" and was clearly an attempt to "lure" Law back to the territory so he could be jailed.
Kearns said the government should have summoned China's ambassador to the UK to file a complaint after the prizes were announced for the activists.
He and other lawmakers urged the government earlier this month to impose sanctions on Hong Kong officials involved in targeting UK-based pro-democracy activists.
Mark Sabah, director of the UK and EU Committee on Freedom at the Hong Kong Foundation, called the move evil.
"This new escalation is clearly designed to intimidate and silence overseas Hong Kong citizens from exposing the true nature of Hong Kong authorities and their Beijing rulers," he said.
Days after the warrants were issued, five people in Hong Kong were arrested and charged with violating national security laws by accepting funds to support overseas activists.
Several people associated with the app that promotes sympathetic businesses at the 2019 pro-democracy protests in Hong Kong.
according to local media. the app was removed from the app store last week.
Also read: Jemaah Haji Asal Makassar Beli Emas di Tanah Suci
Kabari99-Diwani-Yogyakarta