Hiburan
Jake Paul won a unanimous decision against Nate Diaz
By unanimous decision over Nate Diaz jake paul would have ventured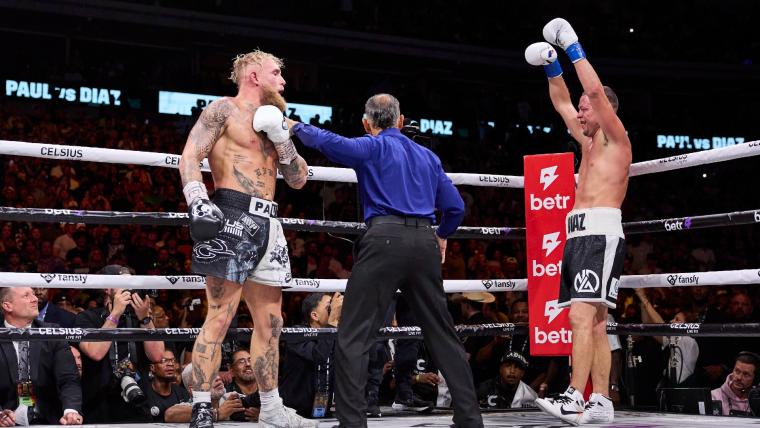 Kabari99-Jake Paul won a unanimous decision against Nate Diaz in a cruiserweight fight on Saturday night.
Paul, the 26-year-old social media YouTube personality who has turned himself into a prizefighter,
clearly held the advantage for much of the 10-round fight.
Diaz, a mixed-martial arts fighter who left the UFC in 2022, appeared on the verge of a knockout at various moments.
Also read on:The offshore wind potential in the US is enormous
Paul (7-1) showed he was better conditioned throughout the fight as he bounced back from his first
career loss – a split-decision against Tommy Fury in Saudi Arabia in February. The three judges scored this fight 97-92, 98-91, and 98-91.
"He's tough, that's what he's known for," Paul said of Diaz. "Of course [I expected to win]. I knocked him down."
Also read on:Tampilan 3D bisa segera membawa sentuhan ke dunia digital
The 38-year-old Diaz, making his pro boxing debut,
struck several blows near the end of the third round, briefly leaving Paul wobbly before the bell.
Diaz continued his offensive in the fourth round, landing several jabs to the roars of the decidedly pro-Diaz crowd.
JAKE PAUL KNOCKS NATE DIAZ DOWN 😵‍💫 pic.twitter.com/aGJk1kvTBq

— Complex Sports (@ComplexSports) August 6, 2023
However, in the fifth round,
Diaz looked exhausted and therefore Paul took advantage of the opportunity. He briefly sent Diaz to the floor with a clean left hook before throwing consecutive punches to Diaz's head in the next round.
Paul came to life at the start of the fourth round with a number of stiff shots including a well-timed jab that was stabbing at Diaz from the outside.
Again and again, Diaz just smiled back at Paul while biding his time,
Also read on:Oman menunjukkan produsen bahan bakar fosil
which allowed him to storm back in the second half of the round as he just kept chipping away at the social influencer turned boxer.
That game plan for Diaz finally backfired when Paul leapt into a nasty fade away left hook that cracked the Stockton native and sent him crashing to the canvas.
The momentum of the knockdown nearly sent Diaz through the ropes but he was able to get back to his feet to beat the 10 count and continue.
Also read on:EU Support for Iran Feels Hollow Given the Harsh Migration Policy
To his credit,
Diaz recovered well enough to make it out for the sixth round but the way he was marching forward continued to allow Paul to just load up on his punches.
It was also clear that Paul was happier staying on his toes,
dancing on the outside and making Diaz come after him as he continued looking for set ups to unleash his counters.
Just when it look like Paul was in complete control,
Also read on:Tampilan 3D bisa segera membawa sentuhan ke dunia digital
Diaz surprised him again with a relentless attack in the eighth round that included a couple of staggering uppercuts on the inside.
The punches snapped Paul's head backwards as Diaz continued coming after him with no signs of slowing down.
Ever the showman,
Diaz was taunting Paul, absorbing a punch and then just coming back with three or four of his own.
The problem for Diaz was his inability to really hurt Paul and while he consistently got a rise out of the crowd,
Also read on:Betsy Blair aktor nominasi Oscar tetap setia pada cita-citanya
he just wasn't winning a boxing match.
As for Paul, he was still throwing with a lot of power,
especially behind a stinging left hand that had Diaz favoring his right eye as swelling and bruising continued to grow.
Even as he was blinking through the pain,
Diaz was staying in the fight and he even briefly grabbed a guillotine choke in the clinch before releasing Paul and flashing a smile back at him.
Kabari99-Diwani-Dubai