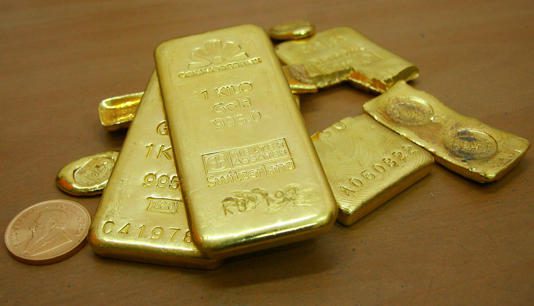 Kabari99-
Gold prices Rises on Tuesday, buoyed by a weaker U.S. dollar and Treasury yields, as investors looked to the minutes of the Federal Reserve's recent meeting for further guidance on its interest rate outlook.
By 04:37 GMT, spot gold was up 0.7 percent at $1,991.69 an ounce. U.S. gold futures gained 0.6 percent to $1,993.50. According to (Reuters).
Gold Focus Shifts to Fed Meeting Minutes
Edward Meyer, a metals analyst, said: "US dollar and bond yields continue to fall. Demand from central banks is also very strong. All these things stimulate gold. The market is reconsidering this decline we saw yesterday."
The dollar fell to its lowest level in more than two and a half months as investors expected U.S. interest rates to fall next year. A weaker dollar makes gold less expensive for holders of other currencies.
10-year U.S. Treasury yields hovered near two-month lows touched last week.
Also read on:Kasus di duga melakukan pencucian $176rb hasil cyber scam
The minutes of the last meeting of the Federal Reserve are due at 19:00 GMT. Signs of slowing inflation in the US reinforced expectations that the U.S. central bank has finished raising interest rates.
Gold prices rose on Tuesday, supported by a weaker US dollar and Treasury yields as investors look forward to minutes from the Federal Reserve's latest meeting for more guidance on its interest rate outlook.
Markets widely expect the Fed to leave interest rates unchanged at its December meeting, and currently pricing in a chance of more than 50% to cut rates by at least 25 basis points by May, according to CME's FedWatch.
Also read on:Pemecah Es Nuklir Rusia Muncul di Pantai Jerman
Meyer said:
"I think the minutes will not be an event… There will be no mention of the cuts, Jerome Powell made it very clear in his press conference. Only the market expects cuts from the Fed."
Thomas Parkin, president of the Federal Reserve Bank of Richmond, said inflation is likely to remain "stubborn" and force the Fed to keep interest rates high for longer than investors expect.
Spot silver rose 1.6 percent to $23.74 an ounce, platinum gained 0.4 percent to $922.10, while palladium fell 0.3 percent to $1,074.44.
Kabari99-Dubai