Dunia
Harry Styles gets all romantic with girlfriend Taylor Russell
Can we call this a play date?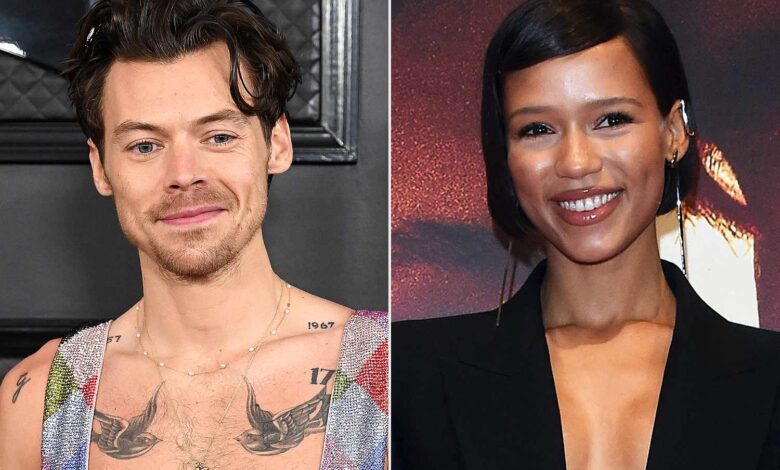 Kabari99-Harry Styles cozied up to his rumored girlfriend Taylor Russell in London on Wednesday, the opening night of her play The Effect.
Styles reportedly kept a low profile during the actual performance,
but the Daily Mail obtained photos of a show afterparty that are sure to fuel some speculation
Styles can be seen putting a hand on Russell's lower back, and Russell can be seen putting her hand on his shoulder.
The pair were also snapped mingling with Styles's friend James Corden.
And sure, that's all pretty tame compared to the shots of Styles's Tokyo makeout sesh with Emily Ratajkowski in March.
Also read on:Happy Birthday actor Shabir Ahluwalia his memorable show
But fans have other evidence to suspect that Styles and Russell,
who were first spotted together in late June, might be dating. In July, the Bones and All actress was seen dancing in the VIP section of the Love on Tour stop in Vienna.
After the performance, Styles was spotted walking around the city with Russell
so perhaps a flying object wasn't the only thing from that night's audience that caught his eye.
Also read on:The best meditation apps to find some calm
Harry Styles gets all romantic with rumoured new girlfriend Taylor Russell in London
The One Direction star has apparently confirmed his relationship with rumoured girlfriend Taylor Russell as they get cozy during a night out in London.
They were secretly attending the press night of The Effect, Russell's new play at the National Theatre.
Also read on:Can music heal the body? Listening to music can be therapeutic
The fledgling couple,
who were speculated to be dating last month, were seen together for the first time at the post-show party.
Witnesses say Styles walked hand-in-hand with Russell and put on an amorous display.
He also reunited with his pal James Corden and his wife Julia Carey after the performance.
Ever the gentleman, Styles reportedly carried Russell's belongings and the pair were picked up by a chauffeur-driven car.
Also read on:The history of Madonna's iconic cone bra explained
Styles was picked up first from a side door before the car drove around to the stage door to pick up Russell.
A source said: "He clearly wanted to be there to support Taylor but did not want the attention to be on him as it was her big night.
"[He] looked very proud in the audience. Harry went to Taylor's dressing room after the play finished and stayed in there with her for about an hour.
Also read on:As a result of the Israeli attack on Jenin
"They emerged from her dressing room at about 10.30pmand walked up stairs to a public bar. It looked like they were holding hands.
"Harry stayed by Taylor's side the whole time. He was introducing her to James Corden, whispering to her, laughing and smiling."
But who is Styles' new girlfriend?
Kabari99-Diwani-Dubai